It's been awhile. I hope you haven't been waiting to eat until you heard from me. Regardless, I'm back with some initial thoughts on new places, some news and a few random notes.
Broil
4603 John Garry Dr. Suite 3
(just SW of Rock Bridge High School…across from Las Margaritas)
Columbia, Missouri
(573) 442-6373
Menu
This month-old sister restaurant to CC's City Broiler has an odd name, a brutal location and doesn't do lunch (my preferred way to try a place out). Still – and I don't normally say much about a place after just one visit – I think Broil is here to stay. It's immediately evident that Scott Cleeton and company have spent a small fortune repurposing the former Smokin' Chicks environs. It's comfortably dark, with a combination of kitsch (Old Style beer mirrors) and class (lots and lots of wood, antique light fixtures) that will be familiar to any CC's fan. Somehow it works, and feels like you've just stepped into a corner bar/steakhouse in Chicago a few decades ago. I mean this in a good way. It's small, homey and charming.
It doesn't hurt that there's a roaring wood fire going in the open kitchen. The grill is an elaborate affair that can be raised or lowered with a system of pulleys, depending on how hot that fire is at a given time. Service on our first visit was efficient and enthusiastic and while the wine list is affordable, it's also depressingly conservative. You'll find most of the bottles at Hy-Vee or Lucky's. The draft beer menu on the other hand is a good one, featuring Logboat, 4 Hands, Broadway Brewery and Bur Oak options during our visit.
The menu is a little different. Broil is basically a steakhouse but one that's been shaken up a little to emphasize smaller plates for sharing. Everything is a la carte and the offerings change from day to day. One constant will be Brussels sprouts, but even they will get a different treatment each day. When we stopped in this week the little mini-cabbages were deep fried, tossed with garlic salt and completely addictive. So too the bacon-wrapped chicken livers, which were creamy, crunchy and better than most (44 Stone's notwithstanding). Broil also does a wedge salad right, topping a crisp half-head of lettuce with a light bleu cheese dressing and slices of grilled pork belly. Heavenly. On the flip side the fries – overlarge and underfried if you ask me – were average and mushrooms desperately needed seasoning to perk up a little, but we were feeling pretty good about things.
Then came the porterhouse steak, as good a value at $22 for 20 oz. as you're likely to find. Our was grilled over the open fire, cut off the bone and then presented whole. It was wonderful – smokey, salty and perfect for sharing. Unfortunately it was also substantially overcooked by the time it had rested, but we scraped up every last morsel of our (now medium-well) steak. We wondered how great it would've been had it been medium rare. We intend to find out soon.
Prices are competitive, if not something you'll splurge for on a weekly basis. A salad, an appetizer, three sides, a large steak and a bottle of Rioja set us back a shade under $100. A couple could eat well for under $40 if you were trying. So, the value is pretty high.
Mrs. SMEs and I agreed: Broil is going to be a significant player in town. The space is inviting and unique and the food shows real promise. They have a couple of kinks to work out but the cooking is good enough, and prices friendly enough, to warrant a visit right now.
Pepperjax Grill
2900 Trimble Rd
Columbia, MO 65201
Phone:(573) 442-2117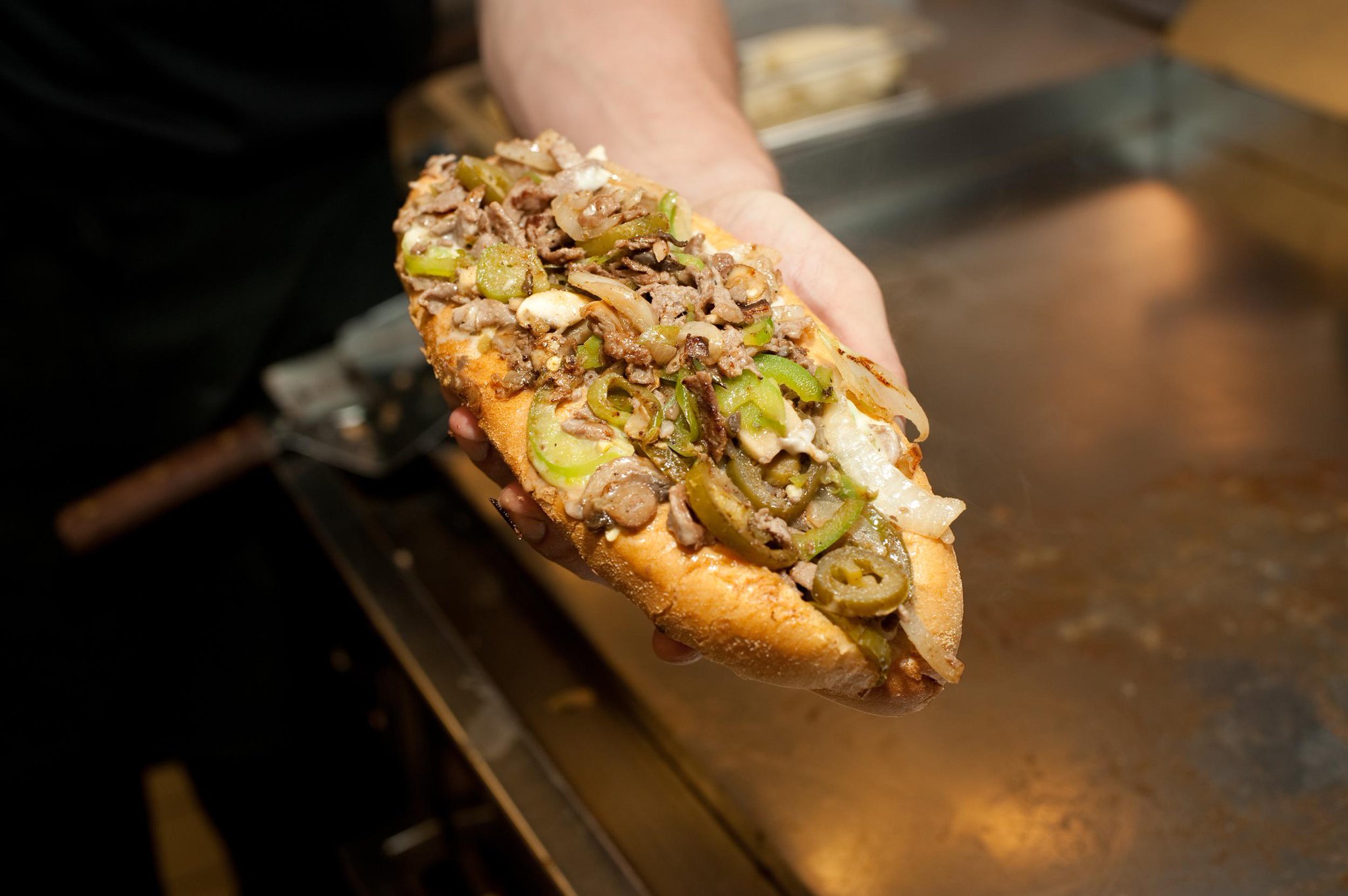 Pepperjax Grill does cheesesteaks. Apparently Pepperjax can get you a cheesesteak on rice or in a tortilla but, well, cheesesteaks are sandwiches and Columbia once again has a right proper one (We still miss you, cheesesteak at Billiards!) now that Pepperjax has opened on east Broadway (think Lowe's, HyVee, etc. on Conley Road). Mrs. SMEs and I opted to split a (giant) cheesesteak and were glad/sad that we did. It was a helluva good cheesesteak and food enough for two (though our tastebuds disagreed). Fries here are a waste of calories, guys, so get a cheesesteak, add jalapeños and have them douse the finished product with jalapeño juice ("Fireball"). It's a delish-a-gross guilty pleasure on par with El Rancho's enchiladas. The fun, historical photos of Columbia and Boone County make for an entertaining wait in line (pro tip: check out the ladies basketball teams from the 1910s).
Other news and notes:
Everyone's favorite taco truck trailer, Pepe's has come out of "hibernation mode" and will be slinging tacos at Rose Music Hall this Saturday. They will be taking over the kitchen there and venturing out mobile-style "when we can." Gunther's Games is going to close…and reopen with a new craft beer menu. Maybe I'll actually stop in sometime. It's been open since January, but Be My Guest Bistro's location on the Walnut side of a student apartment complex is easy to miss. Two visits have revealed sub-par ramen, decent tom yum soup and a menu with everything from Philly cheesesteaks to sushi. Their website is a complete mess.
And last but not least, the Columbia Area Career Center culinary students took home some hardware at the state SkillsUSA competition. (ital = moving on to nationals)
Jacob Knerr – 1st place Commercial Baking (Home School Senior)
Jerry Jo – 1st place Culinary Arts (HHS Senior)
Jacob Ventrillo – 2nd place Culinary Arts (RBHS Senior)
You can help support Jacob and Jerry's trip to the national competition at the following fundraising events:
Saturday April 18th – 8:00 to Noon at the Columbia Farmer's Market (next to the ARC) – Omelets, all made with ingredients from the Columbia Farmer's Market.
Sunday April 19th – 9:00 – 1:00 at the North Village Farmers and Artisans Market (behind the Wabash station) – Omelets made from all local ingredients, baked goods and sausage for sale.